"If you're planning to go to Greece, you should go to Meteora – they filmed a James Bond film there once, saw it in a documentary, it looks beautiful."
That's what my dad told me when I mentioned I was planning a trip to Greece. Before that, I had never heard of the place before. Usually, when you think of Greece, you imagine the blue waters of the mediterranean and the houses with their blue roof tops in Santorini. A huge rocky landscape with massive monoliths and tiny monasteries perched above would not have come to mind.
Listed as a UNESCO World Heritage site, Meteora in Greece is an area with huge monolithic pillars and rock formations.
It's not easy to describe how magical this place is, so I'll let the pictures do most of the talking.
Above is a 360 Video I took while there, you can scroll to take a look around.
Things to note about travelling from Athens to Meteora:
There are two main ways to get to Meteora in Greece, depending on where you set out from. Assuming that you are traveling from Athens to Meteroa, you can:
Rent a car. You can rent a car in Athens and drive North-West. It's a very scenic drive, takes about 5 hours. If you drive, I highly recommend that you do not end your trip in Meteora, but instead continue on north to Thessaloniki. Take the train. The train ride is 5 hours from Athens' main station, and your journey will end at the main town of Meteora, Kalambaka. You can book your train tickets online with tickets.trainose.gr or you may change the language to English by selecting EN at the top left. There is one direct train trip per day; others will require you to change trains along the way. The direct train leaves at 08:27am from Athen's main station. I recommend you book in advance, as there were some people on the train that did not have a seat. It's a cheap ticket only 22euros return. You are able to take a train towards Thessaloniki as well, instead of heading back to Athens.
Where to stay:
Guesthouse:
There are several small guest houses in both Kalambaka and Kastraki, the two towns in Meteora. Both are very close to each other and either are ideal places to stay. Kastraki is a bit quieter.
I stayed at a place called Guesthouse Lithos in Kastraki, with a balcony with a view of the amazing Monoliths. I had a room to myself as it was just 45 euros a night. Plus I wanted a place for a good night's rest after walking around the whole day. I booked it through Agoda.
Backpackers:
There are a few hostels you can book through either Airbnb or through Hostelworld. Prices range from 12 euros to 24 euros depending.
Backpacking Europe – what about visiting Hallstat in Austria?
Getting around Meteora in Greece:
You have a few options to get around to visit the monasteries. All the monasteries have road access to the bottom of each one, take note however that for most of them, there are still many steps to reach the top. There's a bus that makes a few stops in either of the towns to pick up passengers, then it makes it's way to each of the monasteries (you can ask your accommodation for the timings), it goes by hourly intervals. If you drove from Athens to Meteora, then you can have the easy life and drive to each of the monasteries. However, if you truly want to experience the natural beauty of Meteora in Greece, you should do what I did and walk. Be prepared though, it's up up up-hill. Walking will also give you the best photo opportunities.
Places to see:
The main reason, other than the amazing scenery that people come here for, is to check out the iconic Monasteries perched on top of the rocks.
All together there are 6 active monasteries open to the public:
Amazed by this surreal destination? How about visiting another surreal fairytale city – Hallstatt?
Things to note when visiting the Monasteries:
Opening hours aren't always fixed, they depend on the season you visit, for up to date timings you can check this website.
There is a small entrance free of 3 euros per Monastery.
Dress modestly, since you are visiting a holy place. Even men will be required to wear long pants to some of the Monasteries. I wore those convertible hiking pants that let you convert them to shorts to make things easier. At the Great Meteoron, shorts were okay. However, at St. Nicholas, you had to wear long pants, so it really depends, just play it safe.
Access to food and water: At the bigger Monasteries there will usually be a van selling refreshments and light snacks outside. However, do not rely on this and do bring along a lot of water, especially when you intend to walk the whole area.
Restrooms are available at the Monasteries.
Some areas in the Monasteries do not allow photography, usually the areas of worship, please respect this.
Do you have to visit all six? That's really up to you. To me the monasteries are similar inside, I visited three of the six. The main one to visit would be Great Meteoron. I don't recommend visiting all in a day as it would just be too rushed.
The Hermit Caves
These caves are mind boggling, some monks spent the rest of their lives living up in these caves to be closer to God.
The monks lived up on the rocks to enhance their personal relationship with God. Their days were devoted to prayer; and high above the rocks their lives were free of any earthly distractions.
Getting to the Hermit Caves
Exploring hidden paths
While exploring the area, I turned the corner past a big boulder and was greeted by this fella with his friends. You'll find some herds of goats along the paths. Don't worry, from my experience they don't bite.
You can discover some hidden paths along some trails that lead to unique areas. This place was a hidden alcove perched above one of the monoliths. You can follow a rocky trail up the side of one of the rocks.
There is a bit of climbing involved to get to this hidden area, but you are rewarded with an amazing view.
The view from Great Meteoron in Infrared. For more infrared shots you can follow my infrared instagram: @irwanderings
Monastery of Varlaam in Infrared. For more infrared shots you can follow my infrared instagram: @irwanderings
Additional Info
I went there at the very end of October, it's considered the warmest time of the year. If you are okay with the heat you can enjoy a lot less tourists.
I was there from Wednesday till Friday. Two full days. Which I would consider slightly rushed. To really enjoy the area I believe 3 days would have been perfect.
Be prepared to walk a lot if you aren't driving. Bring good shoes, lot's of water, sunscreen, a map.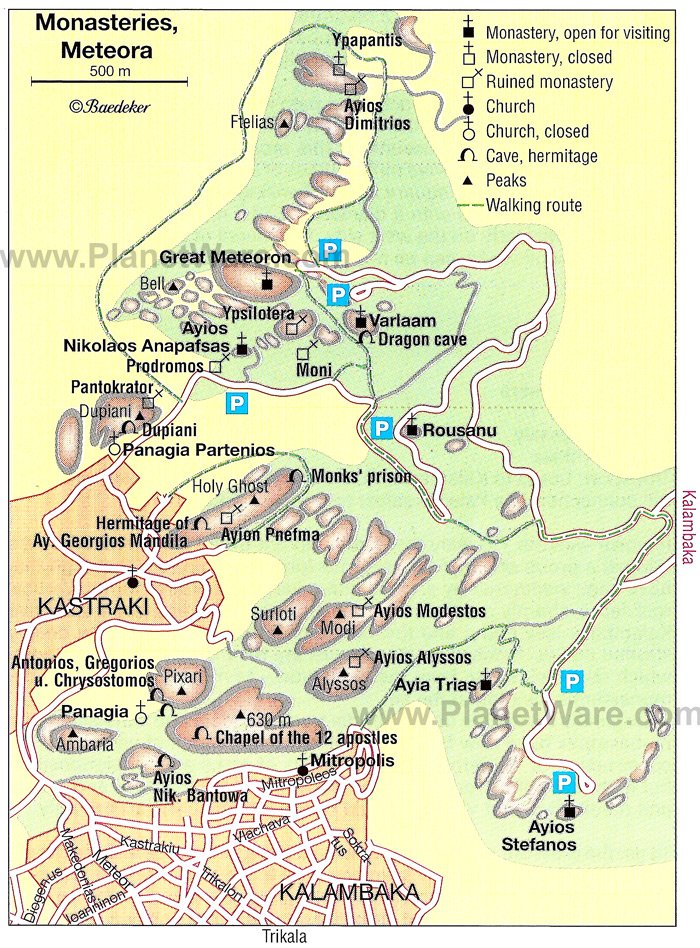 Athens to Meteroa
There is a day trip option from Athens to Meteroa as well. However, if you're going to spend 5 hours on a train, you should really spend at least a night here.
On a side note, I'm an avid rock climber, and rock climbing in Meteora is available. Climbing the massive monoliths with views of the Monasteries perched above the rock is something I really wanted to experience. There are both sports and trad routes. Sadly, I visited during the hottest time of the year and when I went to check out the climbing areas I wasn't able to find any climbers. The lady at my guesthouse said that all the climbers only visit during the cooler part of the year.
To read more articles about rock climbing in Greece, Thailand, South Africa or all of Asia